Hello again, we are back with a new Partner Spotlight. Today, we at Condo Manager would like to highlight one of our latest integrations: CondoWorks. If we were to mention the words "Accounts Payable" to someone at a management company, the reaction would probably be somewhere between annoyance and yelps of pain. However, there are tools such as CondoWorks to help you automate the accounts payable process end-to-end. It is designed specifically for property management companies and seamlessly integrates with Condo Manager.
‍

‍
The Pain of Accounts Payable
CondoWorks was created after observing the effort and complexity that accounts payable poses for management companies. What was apparent was the difficulty of keeping track of invoices, coding them accurately and to the right property, following appropriate approval rules, collecting backup, chasing down cheque signatories... and more. This resulted in inaccurate records, overdue invoices, frustrated vendors, and overburdened team members.
‍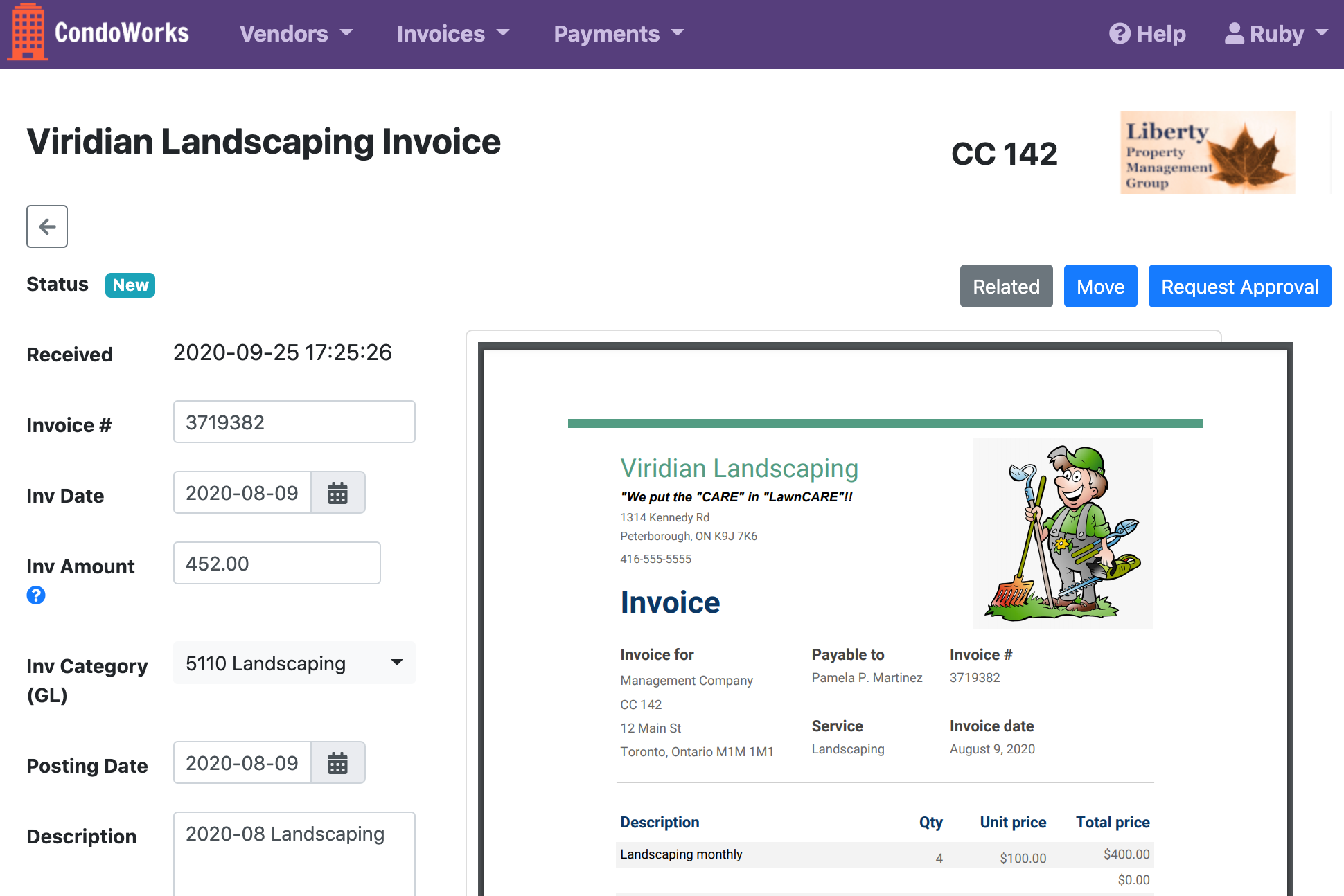 ‍ The Solution: CondoWorks
CondoWorks is a paperless platform to receive, code, approve and pay vendor invoices, all managed online. This will save you time and money and help you build better relationships with boards and vendors.
Here is just some of what CondoWorks can help you do:
Get rid of data entry: key invoice data is automatically extracted and seamlessly synced to Condo Manager once approved
Send payments with ease: no more printing, signing, and mailing cheques. CondoWorks will take care of this for you!
Manage utility invoices: CondoWorks directly connects to online utility portals and downloads invoices as they are released
Keep vendors in line: CondoWorks provides a structured process along with duplication screening and insurance compliance alerts
Make Audits airtight: CondoWorks keeps a complete record of invoices and the history of routing and approvals
The COVID-19 pandemic has led to the acceleration of digital transformation and the elimination of manual, paper-based processes. Pairing CondoWorks with Condo Manager will bring a modern solution to your accounts payable process. We would be happy to talk to you about CondoWorks or of any other way that we can help during these times. Please feel free to contact us.